4 26" ITP Terracross R/T tires mounted on 4 ITP SS 112 12" Wheels
With Lug Nuts and Center Caps
Front Tire: 26/9R-12
Rear Tire:26/11R-12
Manufactured through ITP's high-tech Advancecast process, the 6-spoke SS106 and 12-spoke SS112 not only bring a new level of sophisticated good looks, they have proven in testing to be the strongest and lightest one-piece aluminum wheels on the market today. SS Alloys have shown to be so durable, in fact, that ITP rolls these wheels out with a lifetime structural warranty: if you bend or break it, ITP will replace it!
Specifically designed for late-model ATV applications, the 26/9R-12 front and 26/11R-12 rear TerraCross R/T's 6-ply durability, smooth radial ride and exceptional traction, flotation and overall handling traits have proven to add a significant degree of rider confidence and machine performance.
Dirt Wheels Magazine tested a Yamaha Grizzly using TerraCross R/T tires in its May 2007 issue and stated, "They truly change the quad's handling characteristics, in a positive way. The Griz needed a tire that would hook up and provide a consistent drive out of every corner....ITP's TerraCross radial tires proved themselves worthy of the task at hand."
According to ATV Rider Magazine in its September 2007 issue, in which the TerraCross R/T was tested on a Honda Rincon, "....the tires fit our expectations perfectly as the tread design drastically improved the steering and response of the Honda. The Rincon benefitted greatly from the radial construction of the tires and acted as if a new level of suspension had been added....I'd say the tires and wheels should be the first and most important upgrade for this machine."
Sizing: 12x7, 14x6, 14x8.
14x6 & 14x8 sizes for precise front/rear fitment.
Custom tune your handling and ride with optional offsets.
Proven in testing to be the strongest, lightest and best looking one-piece aluminum wheels on the market today!
Built using ITP's exclusive Advancecast process to exacting QS 9000 quality specifications.
SS106 and SS112 use a bright, diamond-cut machined finish with black accents topped with a tough clear-coat. The SS112 also comes in show-quality chrome. The SS108 is available in either a machined finish with black accents (topped with a clear coat), or in a dramatic matte black finish!
Heavy-duty 12-inch ATV wheel rated at 650 pounds, 14-inch side-by-side UTV applications rated at 700 pounds!
Lifetime structural warranty! If you bend or break it, we will replace it! Buy with confidence!
Custom SS wheel cap is included.
Available For:
Can't find your 4x4, contact us and we will check what applications we have available
Can-Am/Bombardier Traxter 4x4 '99-06
Can-Am/Bombardier Quest 650 '01-06
Honda 350 Rancher S-ES 4x4 '00-06
Honda 400/420 Rancher 4x4 '04-UP
Honda 400 Foreman 4x4 '96-06
Honda 450/500 Foreman S-ES 4x4 '98-UP
Honda 500 Rubicon 4x4 '01-UP
Suzuki 400 Eiger 4x4 '02-07
Suzuki 400 King Quad (straight axle) 4x4 '08
Suzuki 500 Vinson 4x4 '02-UP
Yamaha 350 Grizzly (straight axle) 4x4 '07-UP
Yamaha 350/400 Big Bear 2x4/4x4 '87-06
Yamaha 350/450 Wolverine 4x4 '95-UP
Yamaha 350 Bruin 2x4/4x4 '04-06
Yamaha 400/450 Kodiak 4x4 '93-04
Yamaha 600 Grizzly 4x4 '98-01
Honda 650/700 Rincon 4x4 '02-UP
Kawasaki 650i Brute Force 4x4 '06-UP
Kawasaki 750 Brute Force 4x4 '05-07
Suzuki 450/700/750 King Quad '05-UP
Yamaha 660 Grizzly 4x4 '02-UP
Yamaha 700 Grizzly 4x4 '07-UP
Yamaha 450/660/700 Rhino '04-UP
Can't find your 4x4, contact us and we will check what applications we have available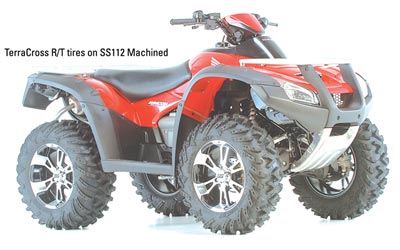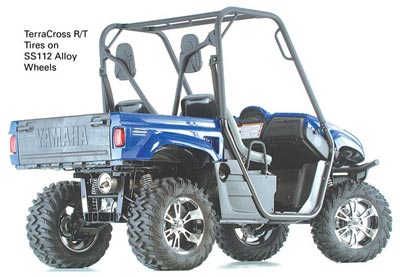 26,9,12,FRONT 26,11,12,REAR