CARROZZERIA Forged Wheel products are designed for today's modern motorcycles. With over 25 years in top level motorcycle roadracing engineering experience we have created products using the highest quality materials with innovative designs. Our design team has worked inside International factory race teams and have designed some the best products in the world.
Carrozzeria USA Inc is the pioneer of utilizing Forged Aluminum materials for motorcycle wheel applications. Forged Aluminum is the strongest material available with a considerable weight loss advantage. Lowering unsprung weight is vital in increasing the performance of your motorcycle.
Custom made for you. Please allow 4-6 weeks for production.
After 25 years of top level motorcycle roadracing engineering experience, we present to you our V TRACK FORGED ALUMINUM WHEELS

Beautiful updated Y-Star spoke design
Made from wrought 6151-T6 Aluminum / CNC full machining
30,000 M/Ton super die pressed - high heat forged
Super light weight - High durability - High strength
One piece proprietary CNC hub design
Double cush drive system for high HP applications
CNC alloy spacers, carriers and distance tubes
Designed for street and race track use
Anodized Colors: Satin Black, Machine Silver, Sharp Blue, Wine Red, Bright Gold and Titanium Grey
We also offer a Hi-Gloss Polish (+$200)
Super light weight 7.2 lbs front, 12.7 lbs rear
Approved DOT (USA) & JWL (Japan)
Wheel kits include: Cush drive, Japanese high quality bearings, Spacers and carriers
Most applications do require a specific bolt pattern rear sprocket, contact us 786-242-5400
These wheels are special order and can not be returned or exchanged
Aprilia RSV4 | RSV4 Factory | Aprc I Tuono (2009-2012)
Aprilia RSV4 | RSV4 Factory | Aprc I Tuono (2013-2019)

BMW S1000RR / S1000R (2009-2014)
BMW S1000RR / S1000R (2015-2019)

Ducati 1098/1198 all years
Ducati 1199/1299 Panigale all years
Ducati 848 all years
Ducati 899 Panigale all years
Ducati 859 Panigale all years
Ducati Hypermotard B/S all years
Ducati Monster 696 (2008-2009)
Ducati Monster 821 (2015-2017)
Ducati Monster S2R 1000 (2005-2007)
Ducati Monster S4R (2004-2007)
Ducati Multistrada 1200 (2010-2012)
Ducati Sports Classic 1000/GT 1000 (2006-2010)
Ducati Street Fighter all years
Ducati Monster 620 all years

Honda CBR1000RR (2004-2007)
Honda CBR1000RR (2008-2016)
Honda CBR1000RR (2017-2019)
Honda CBR600RR (2003-2006)
Honda CBR600RR (2007-2021)
Honda CBR929RR | CBR954RR all years
Honda RC51 (2000-2006)

Kawasaki Ninja 650 / ER6N (2012-2016)
Kawasaki Z1000 | Ninja 1000 (2010-2019)
Kawasaki Z900 (2017-2019)
Kawasaki ZX10R (2004-2005)
Kawasaki ZX10R (2006-2010)
Kawasaki ZX10R (2011-2015)
Kawasaki ZX10R (2016-2020)
Kawasaki ZX14R (2006-current)
Kawasaki ZX6R / 636 (2005-2012)
Kawasaki ZX6R / 636 (2013-2020)

Suzuki GSX1300R Hayabusa (1999-2007)
Suzuki GSX1300R Hayabusa (2008-2012)
Suzuki GSX1300R Hayabusa (2013-2020)
Suzuki GSXR1000 (2001-2004)
Suzuki GSXR1000 (2005-2008)
Suzuki GSXR1000 (2009-2016)
Suzuki GSXR1000 (2017-current)
Suzuki GSXR600 | GSXR750 (2006-2007)
Suzuki GSXR600 | GSXR750 (2008-2010)
Suzuki GSXR600 | GSXR750 (2011-2021)
Suzuki TL 1000 1997-2003

Triumph Thruxton (2011-2014)

Yamaha FZ09 / MT09 (2014-2017)
Yamaha FZ1 all years
Yamaha FZ10 / MT10 (2015-current)
Yamaha YZF R1 (2004-2014)
Yamaha YZF R1 (2015-2019)
Yamaha YZF R6 S/R (2003-2016)
Yamaha YZF R6 S/R (2017-current)

The new Apex-6 design is an ultralight modern Superbike wheel designed for top level road racing, yet is also street legal. Every design element is intended to decrease weight while retaining strength and style. The Apex-6 is the first ever fully monolithic, hollow hub Superbike wheel made 100% in the USA..and the lightest forged aluminum DOT wheel set on the market. The ultralight, mass centric design results in a pure performance difference you will actually feel imediately. All design, Forging, heat treating, turning, machining, anodizing and final assembly all happen in the USA. Core Moto spent 16 months developing the Apex-6 with 1 goal in mind...To produce the very best forged aluminum wheel in the world. The level of detail in design and machining of the wheel and components is unmatched in the high performance motorcycle wheel market.

Performance Difference:
Decreasing unsprung weight (weight below the suspension) and rotational mass greatly improves several responsive aspects of usable performance you can actually feel. The Apex-6 Wheel was designed to reduce overall weight, while also centralizing mass to decrease rotational forces. These weight reductions result in improved suspension response, lighter handling, faster acceleration and shorter braking distances. More info about unsprung weight and rotational mass at the bottom of the page.
About the wheel:
CAD Designed one piece proprietary Forged monolithic hub design. Core Moto makes true forged wheels, purpose built for performance. Rather than using market available generic forged blanks, Core Moto wheel forgings are made specific to each model we offer. Our forgings are produced in the USA by the same forging plant that makes wheels for Pagani, Ferrari, Aston Martin, Koenigsegg, Lamborghini and Mercedes AMG to name a few . Although a custom forging limits the amount of spoke designs and sizes we can offer, it nets a better quality product overall. Each wheel starts out as an aluminum billet that does not resemble a wheel. This Billet is then heated and placed into a 6000 ton controlled Hydraulic constant pressure forge and roll machine, This creates the basic shape of the wheel profile. This process is highly controlled to distribute the grain of the metal in a way that optimizes the strength of the wheel requiring less material (weight) needed in the final product. Constant pressure forging creates a more controlled and repeatable product than traditional drop forging. After forging, the near net forged blanks are turned and milled by 3 and 5 Axis CNC machines and carbide cutting tools to remove material and give the wheel its final shape.
About our bearings:
Always factory equipped with high quality, smooth rolling bearings from genuine top tier bearing manufacturers..... Currently the availability of counterfeit bearings is a worldwide epidemic. Core Moto only sources genuine brand name bearings from top tier bearing distributors or factory direct to ensure tolerances and material compositions meet specifications. Our bearings are in most cases larger and wider than stock for more stability. We also choose a bearing seal type that is suited for long service life when maintained properly. Ceramic hybrid bearings are available upon request as an upgrade. We only suggest using ceramic bearings on regularly maintained race specific bikes.
Cush drive bushings:
New wheels made by Core Moto come with serviceable 5 or 6 pot cylindrical Cush Drive System for High HP Applications. In 2016 Core Moto developed a new Cush drive bushing that has proven durability. Our new bushing is now a single bonded hardened steel and firmer compound rubber unit. If your wheels were made before Core Moto started producing Carrozzeria wheels in 2016, improved bushings can be ordered in our genuine replacement parts section or from your favorite Core Moto dealer. As of 2019 we have 3 bushing sizes, depending on wheel model.
Sprocket Carrier:
New 5 bolt anodized CNC aluminum sprocket carrier for Apex-6 models are .25lbs lighter than V-Track 6 bolt Carriers. Each comes with metal locking sprocket nuts and an installed steel bearing retaining ring and bearing for all models. Our sprocket studs are fully re designed, now made from 2205 Duplex stainless steel (when available), yielding more strength and superior corrosion resistance. The drive stud head profile has been optimized to offer more engagement of the bushing system for even load distribution per unit. The Bolt pattern for the Apex-6 is NOT A KAWASAKI PATTERN like former Carrozzeria wheels. The Apex-6 uses a common custom 5 bolt sprocket made by most major manufacturers. More information on sprockets below. Call us for help 786-242-5400
Spacers and distance tubes:
Anodized CNC aluminum Spacers, Carriers and Distance Tubes are pre installed in the wheel. Some spacers will be shipped uninstalled for wheel packing reasons, but will come with a diagram for easy placement. Each part is either laser or mechanically engraved with unique part numbers to identify the placement location. Most front wheel spacers are now fully captive using oil seals. Outer spacers are captive by bearing ID sleeves on the rear.
Rotor Carriers:
Rotor carriers will be pre mounted (except S1000RR for packing reasons) with stainless steel hardware as to not interfere with modern wheel speed sensor pickups. All rotor carriers are designed to accept OEM or aftermarket equivalent brake rotor discs and rotor bolts. New carriers are designed to optimize weight savings while offering a very rigid mount.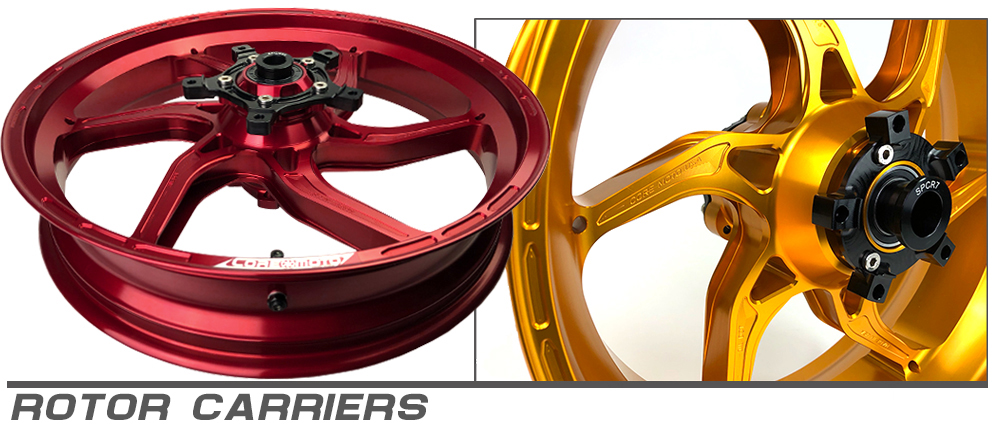 Speed sensor rings for ABS and TC:
Core Moto is now starting to incorporate our own speed sensor rings into the final product, allowing the customer to keep their sensor rings on their OEM wheels. Core Moto was the first aftermarket wheel manufacturer in the industry to do this. This has not been fully implemented for all applications as we are adding them as we make new changes to the hardware. Some application will require reuse of both OEM rings while some applications may come with only one Core Moto Ring front or rear. Each application is different.
Valve stems:
Each wheel will come with 90 degree aluminum valve stems installed.
Sprocket requirement:
Due to the bolt circle diameter of the cush drive system, All Apex-6 Wheels require the use of a custom 5 bolt pattern sprocket. This is a common sprocket bolt pattern used by other aftermarket forged wheel companies in our industry. You will need a sprocket to fit your current pitch 520-530. Then the proper tooth count. We can help. Call us at 786-242-5400


Bolt hole count: 5
Sprocket stud size: M10x1.25
Bolt Hole Circle diameter: 100mm
Hub Diameter: 76mm
call us 786-242-5400